Granville Terre et Mer : construisons ensemble vos mobilités de demain
Quelles solution de mobilités durables pour demain ?
A participatory process is a sequence of participatory activities (e.g. first filling out a survey, then making proposals, discussing them in face-to-face or virtual meetings, and finally prioritizing them) with the aim of defining and making a decision on a specific topic.
Examples of participatory processes are: a process of electing committee members (where candidatures are first presented, then debated and finally a candidacy is chosen), participatory budgets (where proposals are made, valued economically and voted on with the money available), a strategic planning process, the collaborative drafting of a regulation or norm, the design of an urban space or the production of a public policy plan.
About this process
C'est pour faciliter les déplacements et l'autonomie de ceux qui y vivent, dans un esprit de solidarité et d'équité territoriale, que Granville Terre & Mer a pris la compétence Mobilités. C'est aussi pour favoriser la transition écologique et l'attractivité du territoire.
Après le lancement, en juillet 2022, du réseau de bus Néva à l'échelle des 4 communes de l'aire urbaine, la Communauté de communes se penche aujourd'hui sur les solutions de mobilités durables et solidaires en milieu rural et péri-urbain. À travers son Plan de Mobilité Simplifié 2023-2033, Granville Terre & Mer entend répondre aux besoins de déplacements de tous ses habitants, quel que soit leur âge, leur lieu de vie et leur situation personnelle et professionnelle.
Vous vivez ou travaillez sur le territoire de Granville Terre & Mer ? Aidez-nous à mieux connaître vos habitudes de déplacements, les difficultés que vous rencontrez au quotidien et les solutions les plus adaptées pour y remédier.
► Participez aux ateliers de concertation :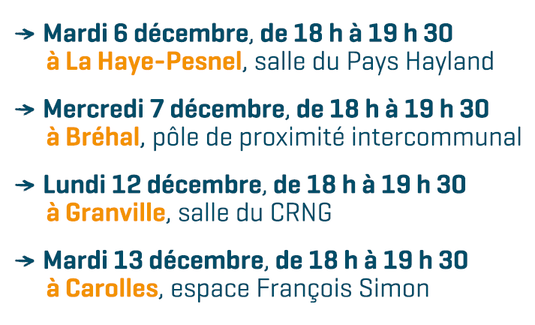 ► Répondez à l'enquête en ligne jusqu'au 1er janvier 2023
What is decided
Faire émerger les habitudes de déplacements, les difficultés et les solutions pour y répondre
Who participates
Les habitant.e.s de Granville Terre et Mer
How is it decided
Concertation
Scope
Communauté de communes GTM
Promoter group
Granville Terre et Mer
Start date
December 06, 2022
End date
January 01, 2023
Reference: granville-PART-2022-12-18